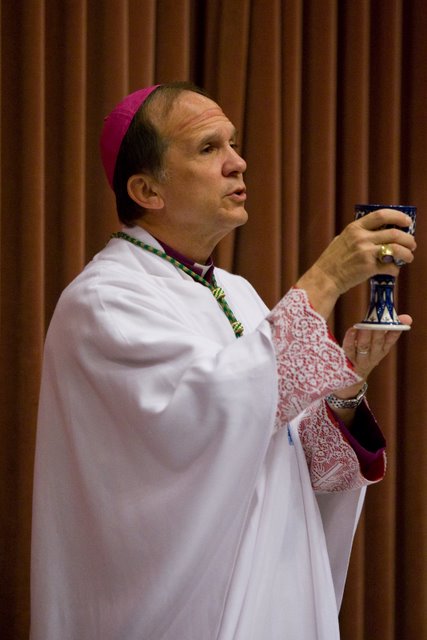 Bishop Keith Ackerman, USA, at Early Communion, Sunday June 22, 2008
XXV. Of the Sacraments.
Sacraments ordained of Christ be not only badges or tokens of Christian men's profession, but rather they be certain sure witnesses, and effectual signs of grace, and God's good will towards us, by the which he doth work invisibly in us, and doth not only quicken, but also strengthen and confirm our Faith in him.
There are two Sacraments ordained of Christ our Lord in the Gospel, that is to say, Baptism, and the Supper of the Lord.
Those five commonly called Sacraments, that is to say, Confirmation, Penance, Orders, Matrimony, and Extreme Unction, are not to be counted for Sacraments of the Gospel, being such as have grown partly of the corrupt following of the Apostles, partly are states of life allowed in the Scriptures, but yet have not like nature of Sacraments with Baptism, and the Lord's Supper, for that they have not any visible sign or ceremony ordained of God.
The Sacraments were not ordained of Christ to be gazed upon, or to be carried about, but that we should duly use them. And in such only as worthily receive the same, they have a wholesome effect or operation: but they that receive them unworthily, purchase to themselves damnation, as Saint Paul saith.

XXVIII. Of the Lord's Supper.
The Supper of the Lord is not only a sign of the love that Christians ought to have among themselves one to another, but rather it is a Sacrament of our Redemption by Christ's death: insomuch that to such as rightly, worthily, and with faith, receive the same, the Bread which we break is a partaking of the Body of Christ; and likewise the Cup of Blessing is a partaking of the Blood of Christ.
Transubstantiation (or the change of the substance of Bread and Wine) in the Supper of the Lord, cannot be proved by Holy Writ; but is repugnant to the plain words of Scripture, overthroweth the nature of a Sacrament, and hath given occasion to many superstitions.
The Body of Christ is given, taken, and eaten, in the Supper, only after an heavenly and spiritual manner. And the mean whereby the Body of Christ is received and eaten in the Supper, is Faith.
The Sacrament of the Lord's Supper was not by Christ's ordinance reserved, carried about, lifted up, or worshipped.